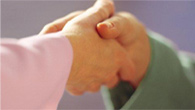 The Malmerk concern is in the business of producing an marketing building constructions, facades, different opening filling modules and their accessories.
The foundations of the concern were laid in 1990 when the production of aluminium profile doors and windows started. In the course of further development operations were expanded to other fields and thus the concern's present day structure was established.
AS Malmerk is a member of the Estonian Chamber of Commerce and Industry and the Association of Construction Material Producers in Estonia.